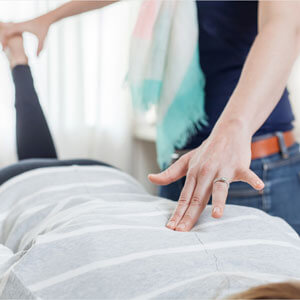 Chiropractic Care
Chiropractic care is a natural, drug-free, non-invasive healthcare method that addresses nervous system health through restoring proper neuro-spinal mechanics. Your body is a self-healing, self-regulating organism that is designed to create health from within. That innate ability and intelligence can sometimes become blocked or dysregulated when your nervous system doesn't function as it should.
Your spine is closely linked to nervous system function, and chiropractic seeks to restore ideal position and mobility to your spine so your nervous system can work optimally. When your nervous system works properly, your whole body can function at a higher level—and that self-healing ability can take over to create health and wellness.
NEW PATIENTS

Dr. MiKayla's Approach
At The Chiropractic Co., we offer specialized care for the entire family. Dr. MiKayla is a Webster certified chiropractor providing care for women and children, including prenatal care.
Patients typically see her for such things as:
Support for a healthy pregnancy and easier delivery
Pregnancy pain, including low back pain, pubic bone pain, round ligament pain
Care for newborns, infants and children
Dr. MiKayla uses a variety of safe, gentle adjusting techniques including:
Activator Methods®
Diversified
Thompson Drop
Webster Technique
Dr. Brooks' Approach
Dr. Books is certified in Advanced Atlas Orthogonal upper cervical work and in chiropractic care for animals. Patients often come to him for:
Chronic conditions
Post-concussive syndrome, including symptoms like migraines, headaches, vertigo, Meniere's Disease, trigeminal neuralgia, PTSD, depression and anxiety
Neck injury
Care for performance horses
Although Dr. Brooks is certified to use a variety of adjusting techniques, his focus is on upper cervical specific care using advanced orthogonal instrument-assisted corrections.
You Don't Have to Be Sick
Most people seek chiropractic care when they're not feeling right, or when they're in pain. And chiropractic can often help in those situations! But you don't have to be sick or in pain to benefit from our care. If you want to feel your best and elevate your life by reducing tension, chiropractic may be an excellent solution.
Schedule Today
Contact us today to book your first appointment.
CONTACT US
---
Chiropractic Care | (580) 339-8078